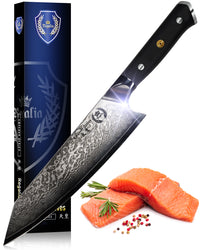 Regalia Knives
Emperor Series
AUS-10V Japanese Steel core with 67 layers of the best quality high carbon Damascus steel combines performance, beauty, and comfort at a price that won't slice a hole in your wallet.
Shop Knives
Giving You The Edge You Need
Pairing beauty, comfort, and professional performance, Regalia delivers the highest quality cutlery on the market today with unwavering commitment to customer satisfaction at unbeatable prices.
Never A Dull Moment
Free Lifetime Sharpening
Regalia's Free Lifetime Service Program is included with the purchase of any of our knives. Just send us your knife and get it back as razor sharp as the day you bought it. It's that simple.
Learn More