8" Chef Knife
67 Layer AUS10V Japanese Damascus Steel
In Need Of A Great Chef Knife?
If You Could Only Have One Knife, This is The One.
Without question, the most essential and versatile knife in any chef's arsenal, the classic chef knife is the-

"if I were on a deserted island and could only have one knife"- knife.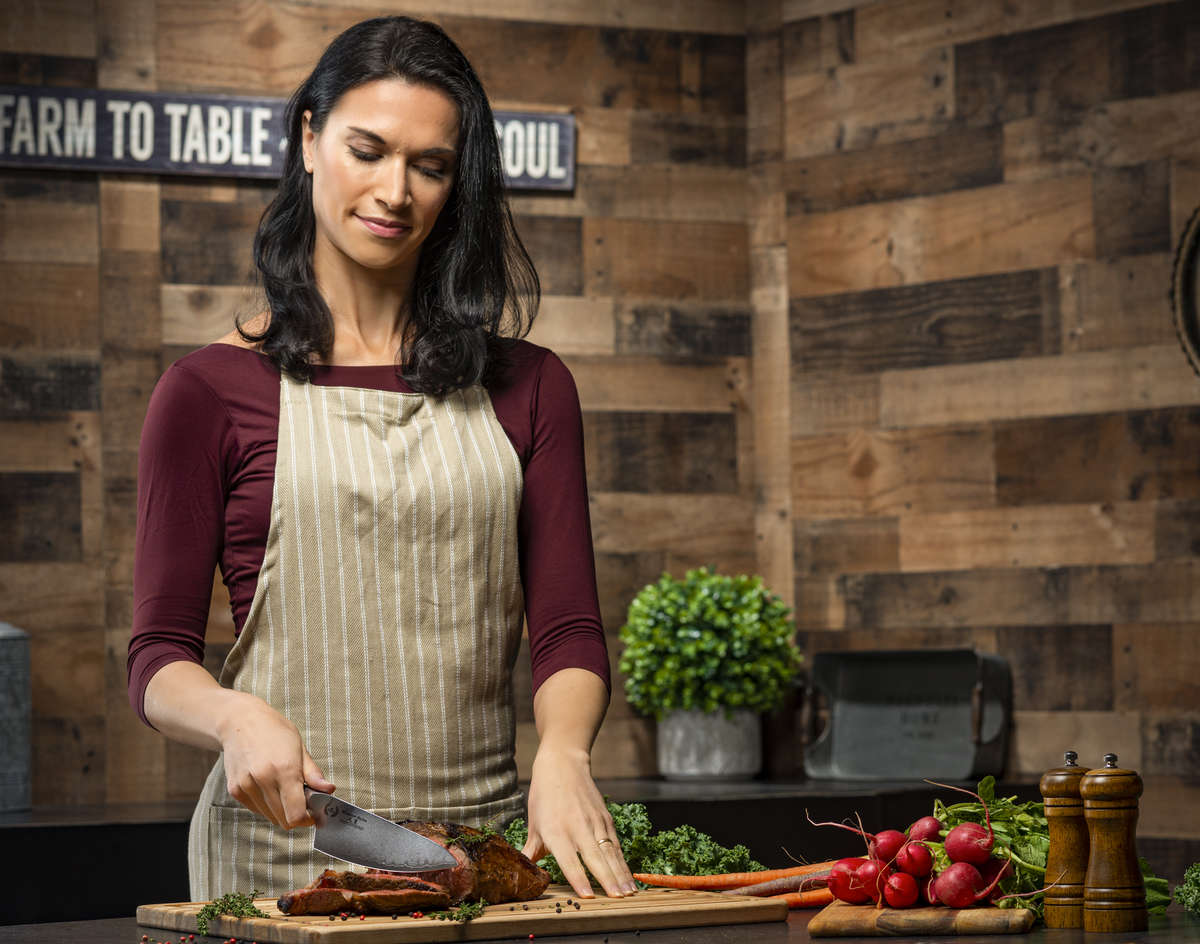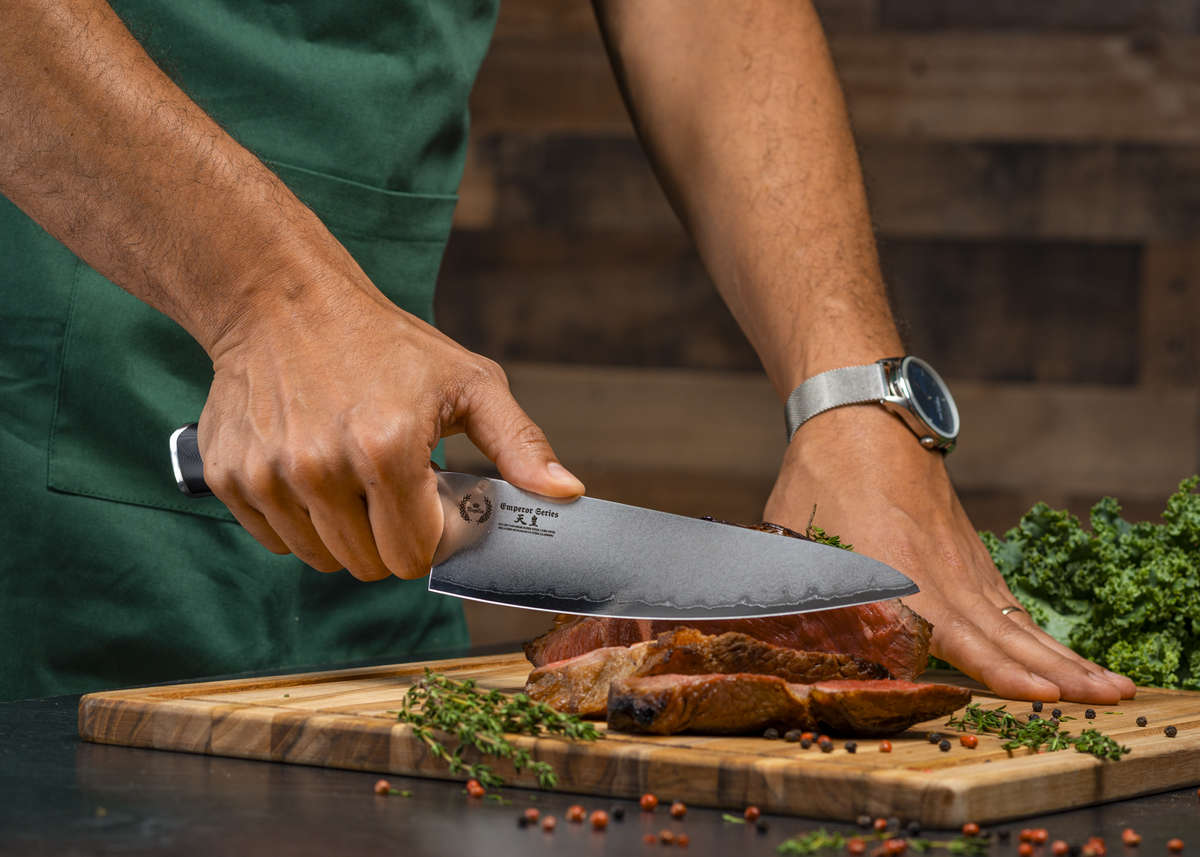 Benefits of the chef knife design:
The versatile curvilinear blade performs well at: mincing, slicing, and chopping vegetables, slicing meat, filleting fish, cutting gourds, disjointing large cuts, and much more.
The flat portion of its blade aids in chopping, while the curved end allows for a rocking motion, ideal for mincing.
Optimal knuckle clearance enables you to smoothly chop and slice without banging or dragging your knuckles.
The tapered angles on this blade make buttery smooth slices an ease.
This 8" blade allows for ample cutting volume, but it's not so long that it feels awkward and unwieldy.
This flagship knife will be your go-to for most kitchen tasks.



A chef knife is an indispensable tool in any kitchen and the Regalia Emperor Series 8" Chef Knife is the number one choice for in-the-know chefs and serious home cooks.
Triple riveted for unparalleled toughness. Center Rosetta style rivet adds a touch of elegance to this masterfully designed workhorse of the kitchen.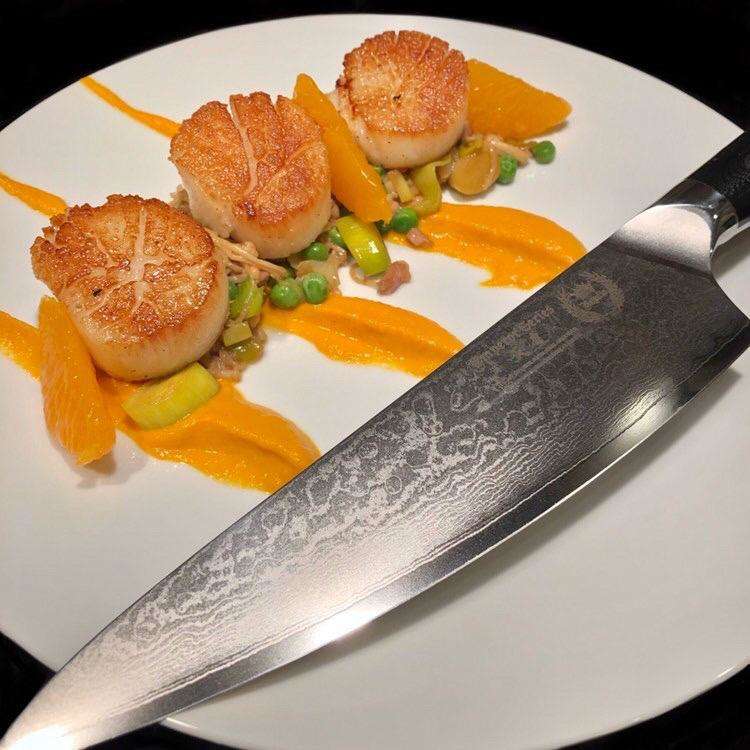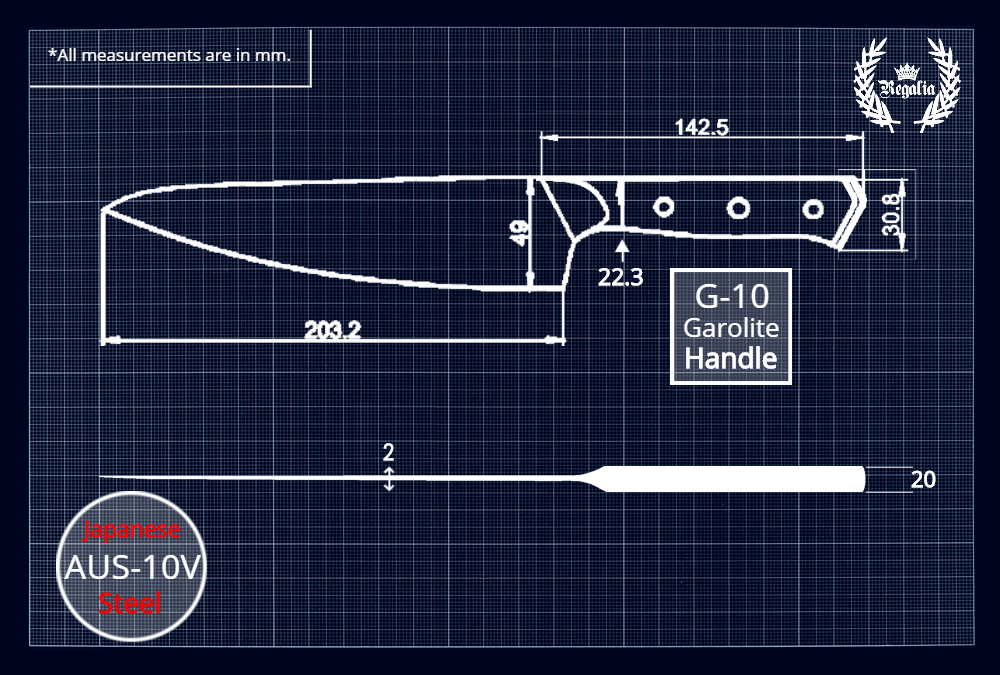 Specifications:
Blade Length: 8 Inches
Overall Length: 13 1/4 Inches
Blade Spine Thickness: 2mm
Weight: 9.0oz
Steel: Japanese AUS10V w/67 Layers of Damascus Steel
Handle: Ergonomically designed G10 Garolite
Tang: Full-Tang (Blade steel continues extends to end of handle)



Beauty and Brawn
Forged from a solid slab of steel, this knife boasts a true full-tang for ultimate durability. Radically hardened with our revolutionary cryogenic nitrogen cooling process, this blade is solid with an incredible 62+ on the Rockwell hardness scale. Clad with 33 layers on each side by genuine Damascus steel, the gentle rolling wave patterns are unique to each blade and intrinsic to the steel- not merely stamped or etched on like many imitators.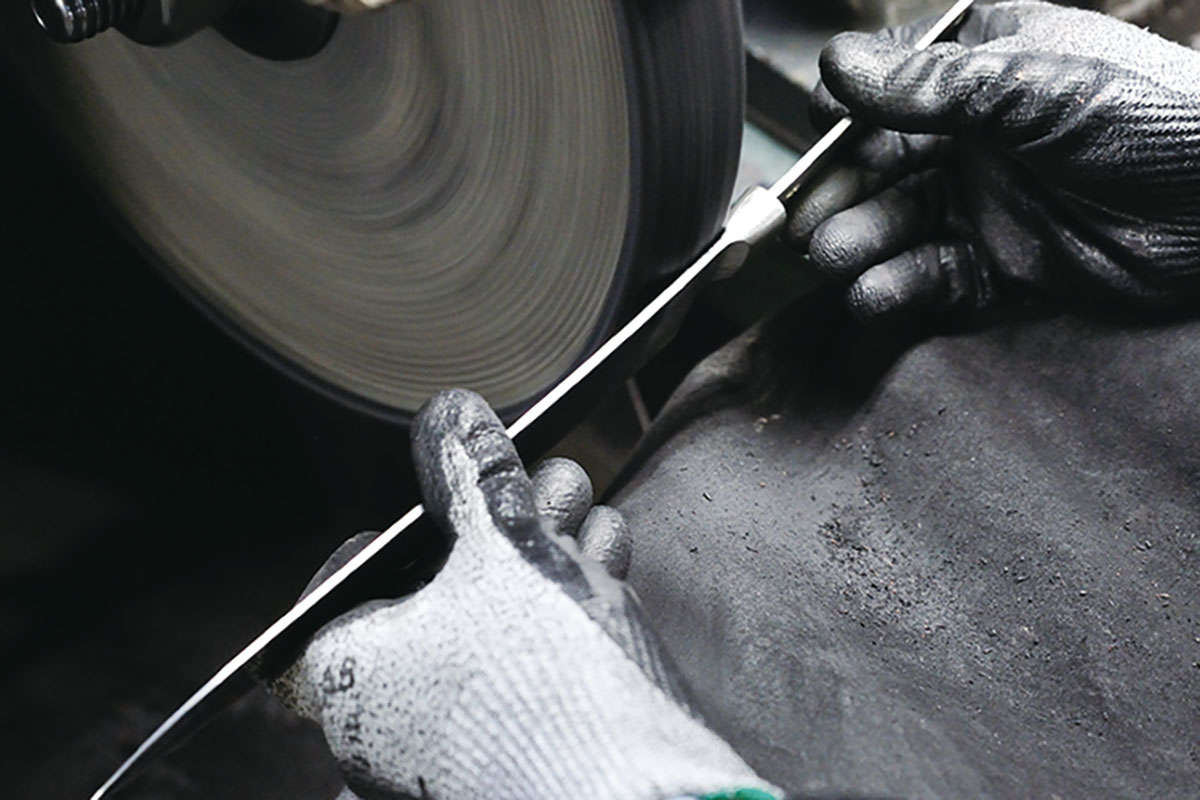 Geometrically Perfect and Scary Sharp
The angles of this blade represent the pinnacle of design and the accumulation of millennia of chef knife making evolution. Finished to a mirror polish of within an astounding 8-12 degree angle per side using the traditional 3-step Honbazuke method, this blade is viciously sharp!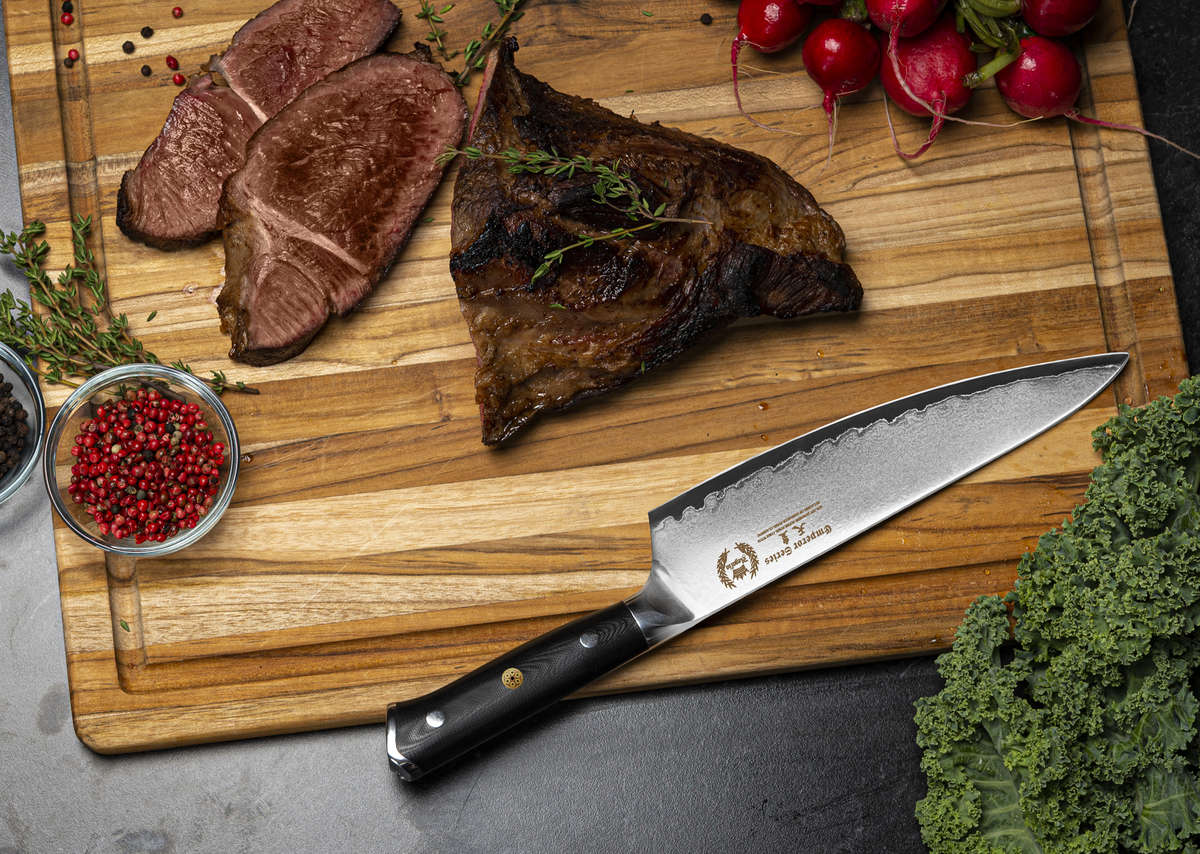 Prefer To Check out on Amazon.com?
Regalia is Proud To Partner with Amazon.com
If you would rather check out on Amazon, please click the link to be redirected.
At Regalia, we build knives to last, and stand behind our products. 
Each purchased Regalia knife comes with:
Lifetime Service Guarantee; We will service your Regalia knives free for life.
Money back guarantee that your knife is not defective.
Complementary life-time sharpening service. Simply send us the knife, and we will sharpen, absolutely for free!


Free Shipping & Returns
Regaliaknives.com offers the easiest, most hassle-free shipping and return policy in the industry.
Free Priority Rate Shipping: We offer free Priority Rate shipping (up to 3 business days) to the 48 contiguous United States on orders over $49. "Business Days" do not include weekends or holidays. Estimated delivery date will be shown when selecting your shipping method during checkout.
Alaska & Hawaii: Shipping is available to Both Alaska and Hawaii at a reduced rate. Please proceed to check out to check rates.

Canada: We also ship to Canada at a discounted rate. Please proceed to checkout to see your final landed cost. You will be able to review your order total before submitting your order.
International Shipping: We offer shipping to most countries. Please check all applicable customs requirements as we take no responsibility for customs or duties. Check shipping rates during check out.
Order Cancelation: If for any reason you would like to cancel your order prior to shipping, please email us at Info@Regaliaknives.com with your name and order number. We will refund your payment right away. Please allow up to seven days for the refund to be reflected in your account.
Free Returns: Our free zero-hassle return policy means that you buy risk free! If within 30 days, you are not completely satisfied with your purchase, return it free of charge and get a full refund. Free returns apply within the continental United States. For all other locations we offer a full 30-day refund policy however the customer must bear the cost of the return shipping. To initiate a return, please contact us at Info@Regaliaknives.com.
100% Lifetime Guarentee: Even after 30 days we stand behind the quality of our products. If at anytime in the future, your item is found to be defective, we will either refund or replace it for no cost to you.