6" Nakiri Knife
67 Layer AUS10V Japanese Damascus Steel
The Definition of a Vegetable Knife
Nakiri literally means "vegetable knife" in Japanese and rightfully so.

This essential tool of any Asian kitchen is now also popular among western vegetarians and other cooks in-the-know.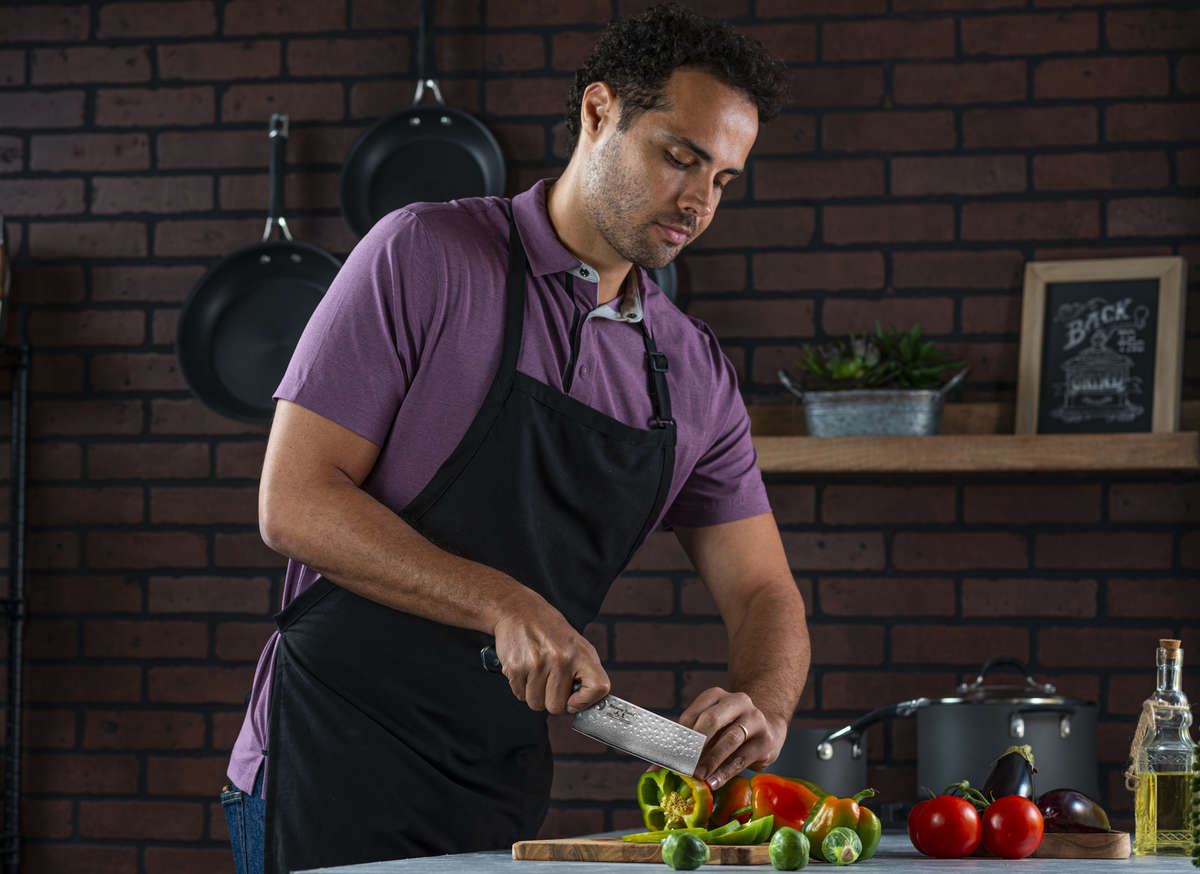 Specifically designed for quick and efficient chopping, slicing, and mincing leafy greens, vegetables, and fruits, the Nakiri's square blade is loaded with benefits such as:
Optimal knuckle clearance.
Square blade allows scooping and easy transfer.
Years of constant sharpening won't shorten or fundamentally change shape of square blade as it will with other blade shapes.
Wider blade surface enables the knuckles of your free hand to guide the blade when 'tap chopping', 'push cutting', or 'pull cutting'.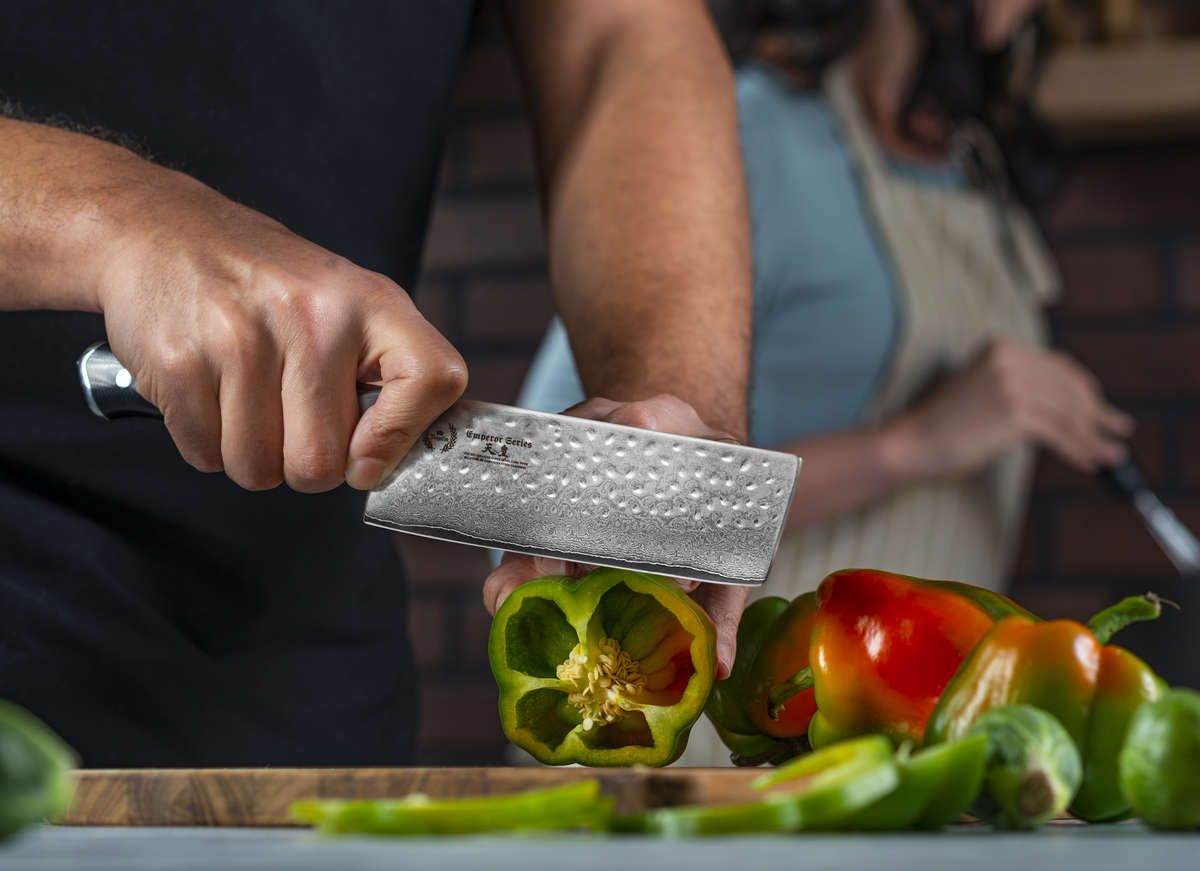 Not to be confused with the single beveled Usuba or heavier Chinese cleaver, the Nakiri is thinner with a double bevel to ensure straight, smooth, and even cuts. The Nakiri is not used in a rocking motion but in a straight up-down or push-cut technique.
This Regalia Emperor series Nakiri knife features a hammered "tsuchime" pattern, which besides adding an exquisite beauty, also improves the functionality of the blade, by reducing suction and cutting down on drag, allowing you to continue your work effectively without having to constantly stop in order to remove stuck on foods from the blade.
Triple riveted for unparalleled toughness. Center Rosetta style rivet adds a touch of elegance to this masterfully designed workhorse of the kitchen.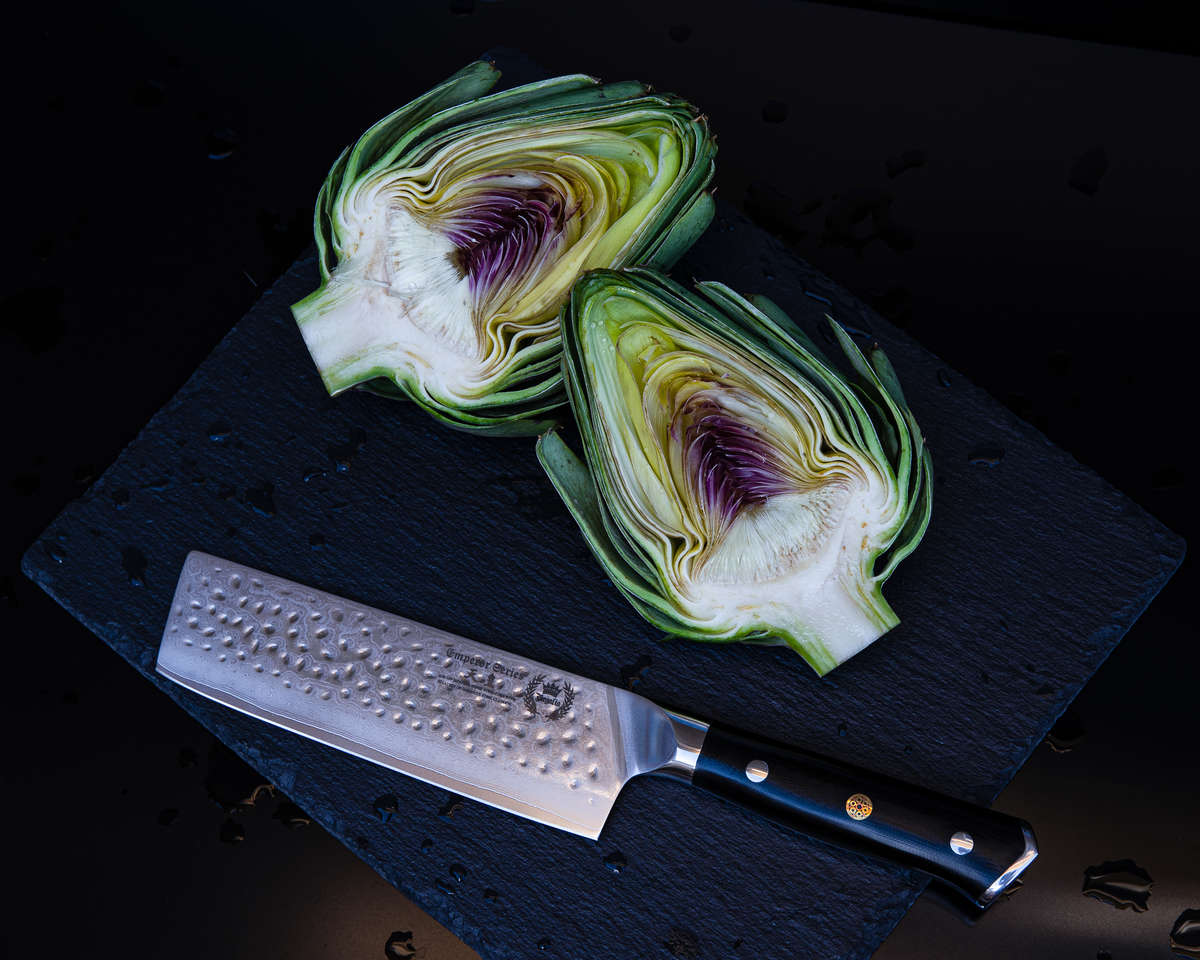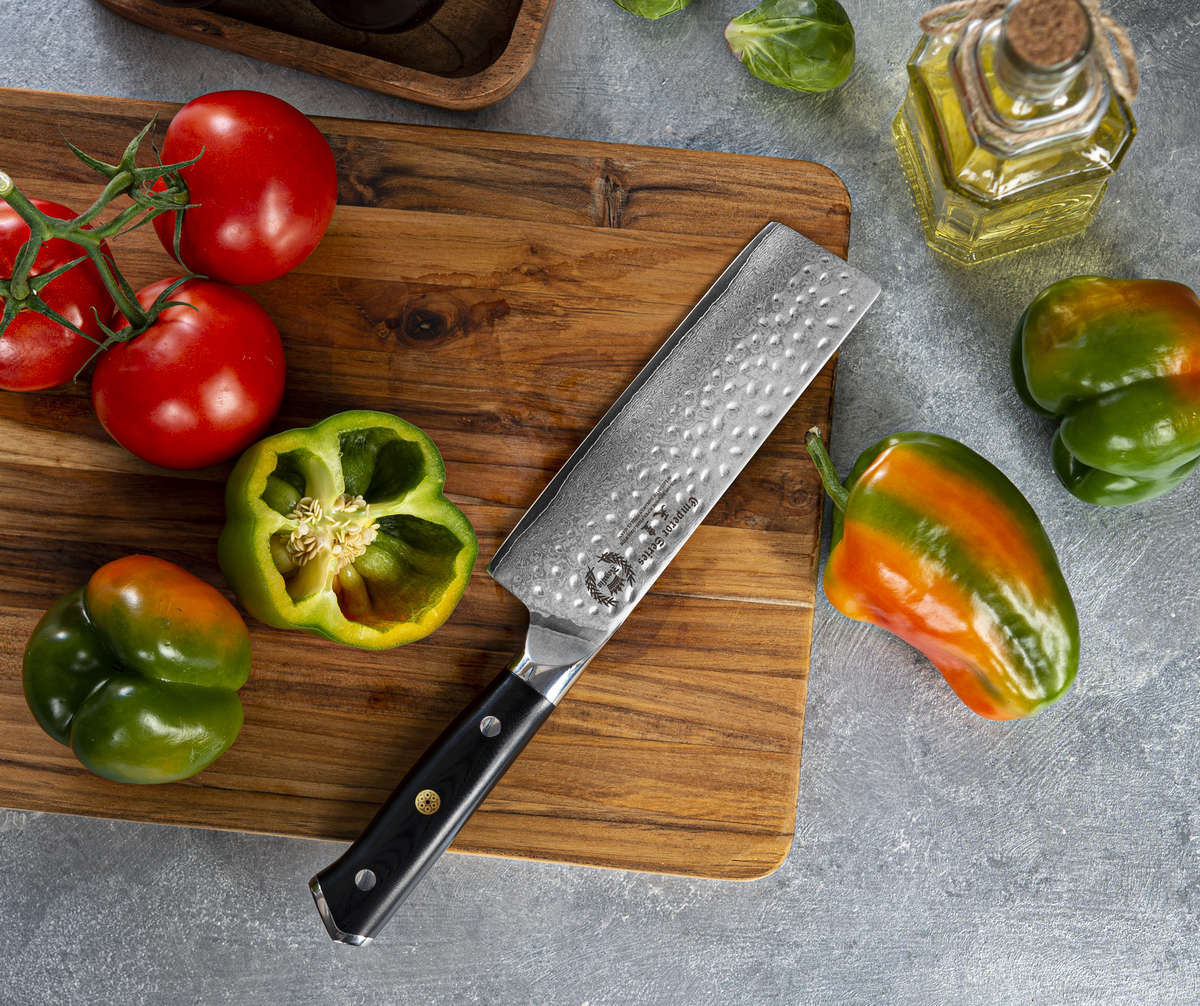 Prefer To Check out on Amazon.com?
Regalia is Proud To Partner with Amazon.
Click the link below to be taken to Amazon.com.
Testimonials
5 STARS
February 7, 2020
"Purchased Nakiri knife after reading marketing material but not knowing much about Company. Any apprehension was unwarranted. Knife is just what I wanted. Ergonomically balanced, cuts well and is of very nice quality. Would recommend to those looking for good value under $100."
5 STARS
February 1, 2020


"This is a tastefully designed product. It's sharp-very sharp. Well balanced between the blade and handle and honestly exceeded expectations. I will buy again for family and friends! Great job."
5 STARS
December 29, 2019



"Razor sharp, well balanced and a great looking knife. Love the handling of this knife."
At Regalia, we build knives to last, and stand behind our products. 
Each purchased Regalia knife comes with:
Lifetime Service Guarantee; We will service your Regalia knives free for life.
Money back guarantee that your knife is not defective.
Complementary life-time sharpening service. Simply send us the knife, and we will sharpen, absolutely for free!


Free Shipping & Returns
Regaliaknives.com offers the easiest, most hassle-free shipping and return policy in the industry.
Free Priority Rate Shipping: We offer free Priority Rate shipping (up to 3 business days) to the 48 contiguous United States on orders over $49. "Business Days" do not include weekends or holidays. Estimated delivery date will be shown when selecting your shipping method during checkout.
Alaska & Hawaii: Shipping is available to Both Alaska and Hawaii at a reduced rate. Please proceed to check out to check rates.

Canada: We also ship to Canada at a discounted rate. Please proceed to checkout to see your final landed cost. You will be able to review your order total before submitting your order.
International Shipping: We offer shipping to most countries. Please check all applicable customs requirements as we take no responsibility for customs or duties. Check shipping rates during check out.
Order Cancelation: If for any reason you would like to cancel your order prior to shipping, please email us at Info@Regaliaknives.com with your name and order number. We will refund your payment right away. Please allow up to seven days for the refund to be reflected in your account.
Free Returns: Our free zero-hassle return policy means that you buy risk free! If within 30 days, you are not completely satisfied with your purchase, return it free of charge and get a full refund. Free returns apply within the continental United States. For all other locations we offer a full 30-day refund policy however the customer must bear the cost of the return shipping. To initiate a return, please contact us at Info@Regaliaknives.com.
100% Lifetime Guarentee: Even after 30 days we stand behind the quality of our products. If at anytime in the future, your item is found to be defective, we will either refund or replace it for no cost to you.