7" Chinese Cleaver
67 Layer AUS10V Japanese Damascus Steel
Called a "chukabocho" in Japanese or "Chinese cleaver, this knife is not a crude hatchet to be used to cut down trees in your backyard but a refined and essential tool of the kitchen.
Unlike dull, soft, and unwieldy battle-axe type cleavers, the Regalia 7 Inch Cleaver knife is razor sharp with incredibly hard steel and used for precision chopping.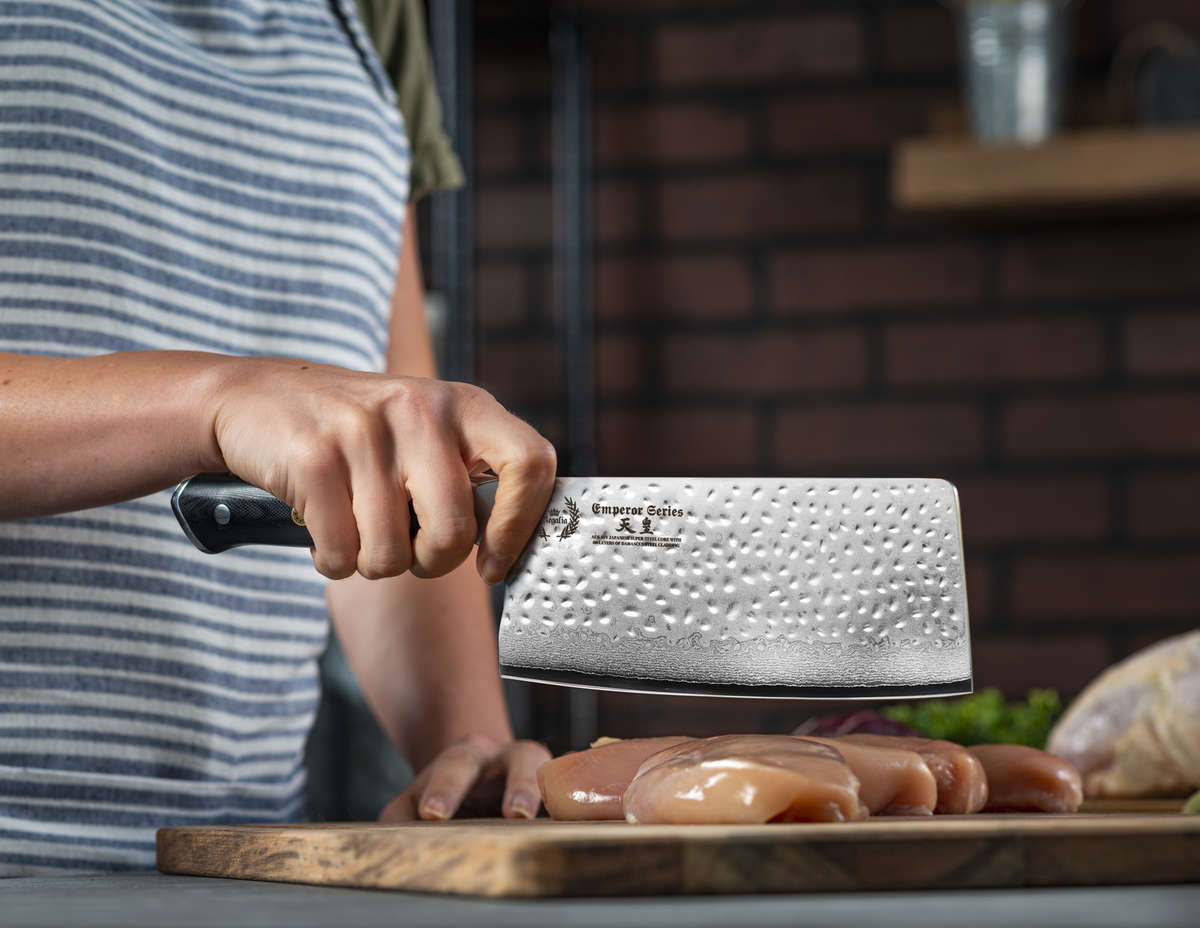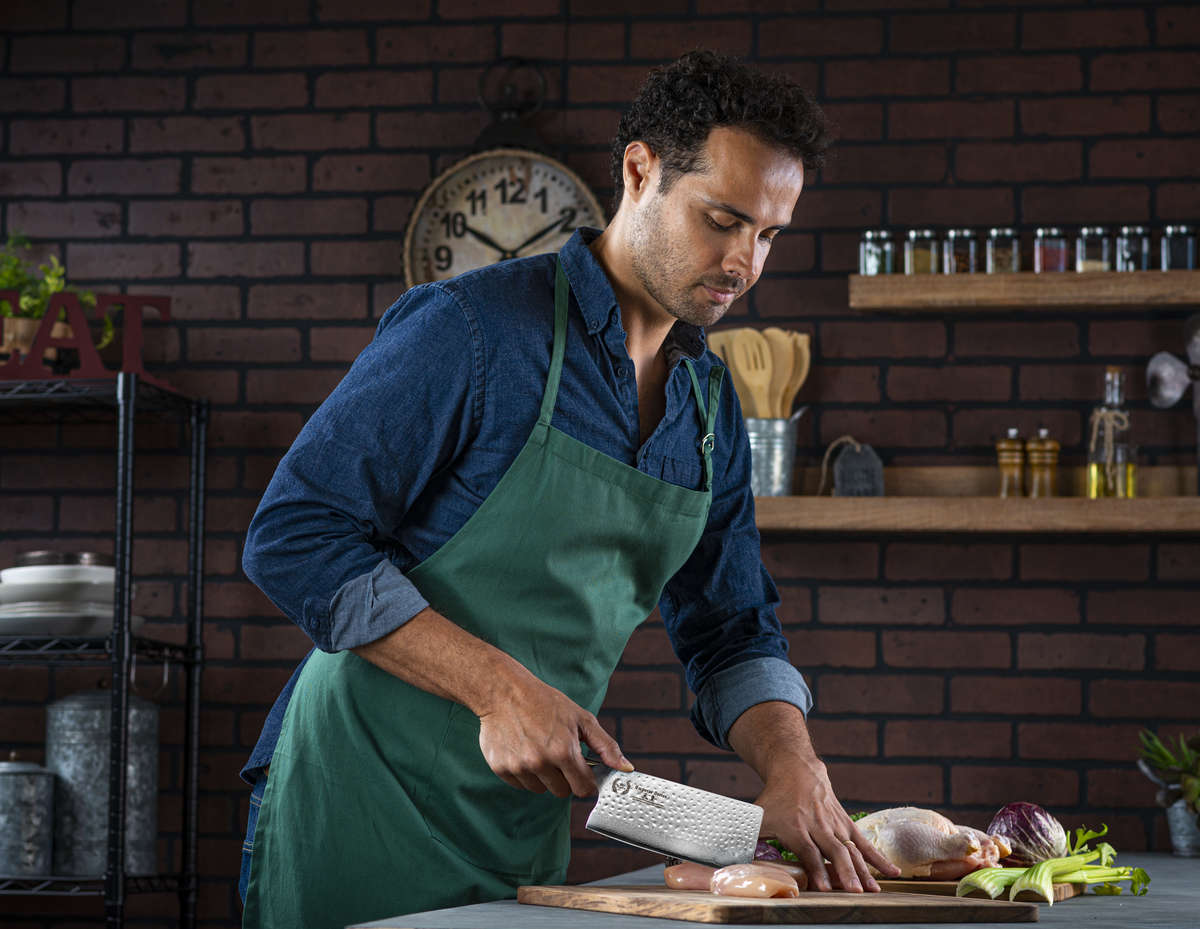 It is best used for:
Breaking through cartilage, sinews and thinner bones on poultry and fish.
Cutting large and thick slabs of meat.
Cutting thick and tough fruits and vegetables like squash, cabbage, pineapples, and coconuts.
Cutting through thick bundles or stalks of vegetables like celery, asparagus, or rhubarb.
Transferring large amounts of chopped ingredients by scooping against the large square blade.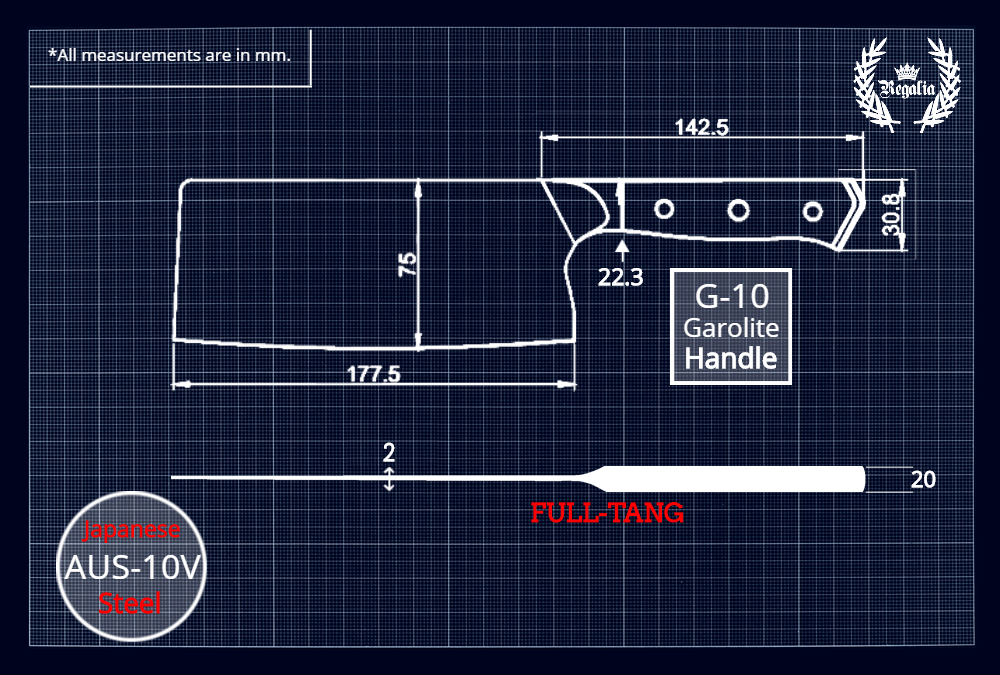 This Regalia Emperor Series 7" Cleaver knife is the end result of exhaustive studies into Asian cleaver functionality, the world over.

We've gleaned the finest materials, most sophisticated bladesmithing techniques, and most cutting edge designs.

Our experience has revealed the ideal size, shape, materials, and design for ultimate performance and comfort and we've combined these findings in one knife to bring you the most advanced cleaver knife ever conceived.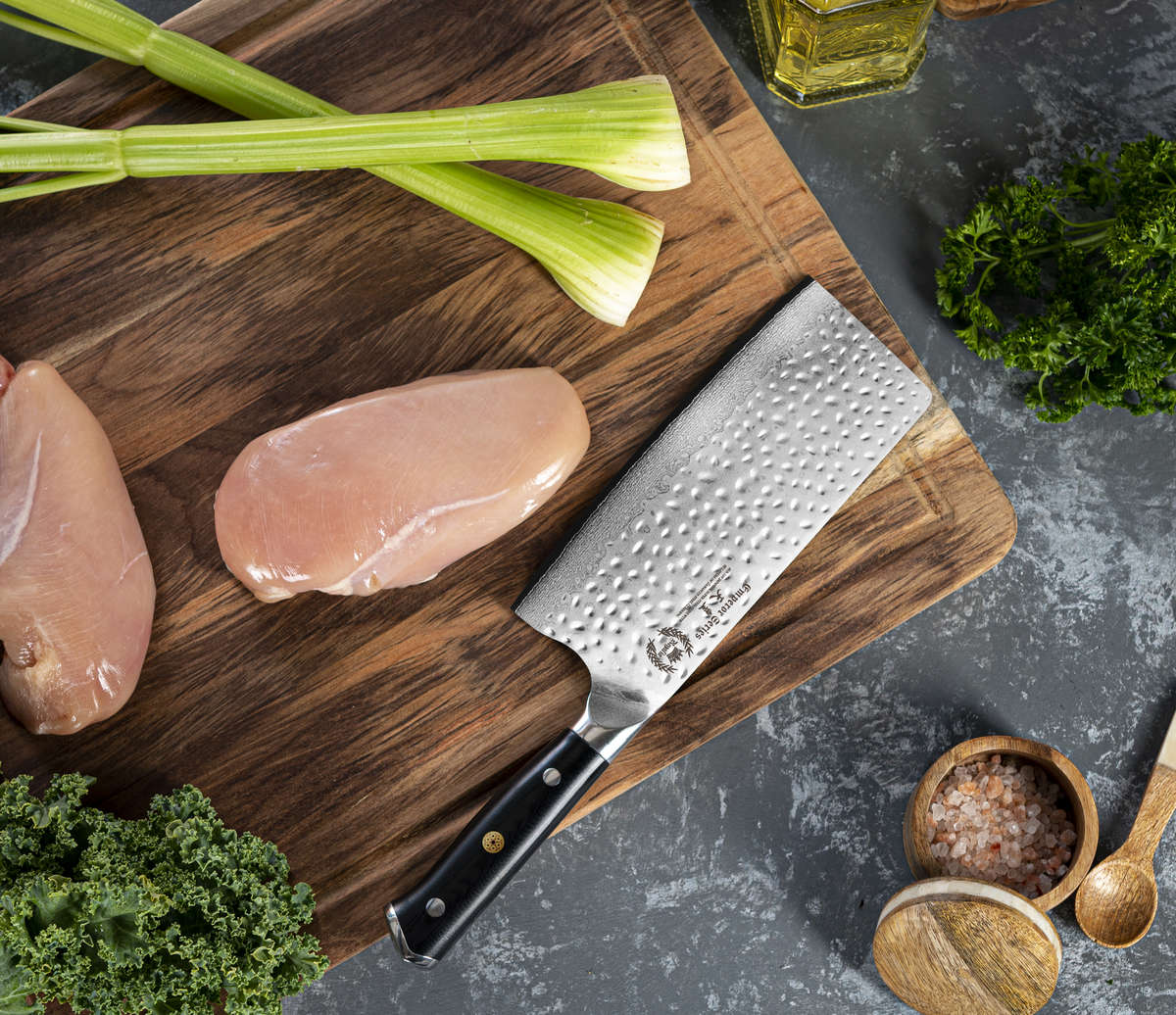 Prefer To Check out on Amazon.com?
Regalia is Proud To Partner with Amazon.com
If you would rather check out on Amazon, please click the link to be redirected.
5-STARS
December 31, 2019
"
Amazing Knife
"
"
This knife is truly something else. Now lets be clear I'm not a professional chef I'm just a guy that likes good knives and this knife is really good. The packaging is really elegant like opening an expensive watch blue velvet in color. The knife itself is a work of art so beautiful to look at, you almost don't want to dirty it. Once you hold it in your hand it has a nice feel the weight is just right and the edge is unbelievably sharp! I was halving a chicken breast in and I was caught off guard at how easily the knife just glided through the meat. Let me just say this knife is worth every penny! I'm curious to see how long the edge lasts but so far amazing!"
At Regalia, we build knives to last, and stand behind our products. 
Each purchased Regalia knife comes with:
Lifetime Service Guarantee; We will service your Regalia knives free for life.
Money back guarantee that your knife is not defective.
Complementary life-time sharpening service. Simply send us the knife, and we will sharpen, absolutely for free!


Free Shipping & Returns
Regaliaknives.com offers the easiest, most hassle-free shipping and return policy in the industry.
Free Priority Rate Shipping: We offer free Priority Rate shipping (up to 3 business days) to the 48 contiguous United States on orders over $49. "Business Days" do not include weekends or holidays. Estimated delivery date will be shown when selecting your shipping method during checkout.
Alaska & Hawaii: Shipping is available to Both Alaska and Hawaii at a reduced rate. Please proceed to check out to check rates.

Canada: We also ship to Canada at a discounted rate. Please proceed to checkout to see your final landed cost. You will be able to review your order total before submitting your order.
International Shipping: We offer shipping to most countries. Please check all applicable customs requirements as we take no responsibility for customs or duties. Check shipping rates during check out.
Order Cancelation: If for any reason you would like to cancel your order prior to shipping, please email us at Info@Regaliaknives.com with your name and order number. We will refund your payment right away. Please allow up to seven days for the refund to be reflected in your account.
Free Returns: Our free zero-hassle return policy means that you buy risk free! If within 30 days, you are not completely satisfied with your purchase, return it free of charge and get a full refund. Free returns apply within the continental United States. For all other locations we offer a full 30-day refund policy however the customer must bear the cost of the return shipping. To initiate a return, please contact us at Info@Regaliaknives.com.
100% Lifetime Guarentee: Even after 30 days we stand behind the quality of our products. If at anytime in the future, your item is found to be defective, we will either refund or replace it for no cost to you.